Hardware screw Packing Machine features we still need to go to understand, then follow the Dongguan screw packing factory's small editor to see it!
First, automatic number of particles, bag making, sealing integrated continuous work.
Second, can replace the manual operation of ten workers, packaging speed of 40 to 80 packs.
Third, can pack a variety of materials in the same bag, each material measurement range is not limited.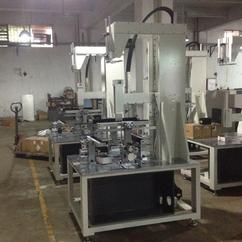 Fourth, the application of screws, nuts, fasteners, hardware and other time consuming force packaging.
A new type of hardware screw packing machine not only solves the problem of manual packaging of traditional hardware accessories, automatic number of grains, and vibration of its own material, according to experts, the current model has been operated in a number of electrical lighting units, proving good use. Professional packaging: electrical lighting, lamps and other small screws, accessories, panels and so on.
More information, all in liyou machinery official website, if in doubt, please call my company's service hotline. Dongguan liyou machinery equipment Co., Ltd. is a reputable, civilized, to the quality of the survival of the enterprise, specialized in the development and production of high-quality suction bubble shell packaging machine, stacking box, electro-optic flower equipment, battery broken ball mill and so on.