On the above, the small editor of the Wanwan sandpaper packaging machine manufacturer has explained in detail the extraordinary part of the sandpaper packaging machine, and the next part is also shared with everyone.
Seven, the product packaging contraction effect is more beautiful: shrink furnace is made of double-layer heat insulation furnace body, inner gallbladder stainless steel, double temperature dual control, furnace heat circulation wind everywhere uniform, contraction effect is better.
Eight, the waste rate is low-horizontal sealing adopts tubular heating, vertical sealing adopts reflux ring, the effect of sealing is more beautiful, the waste rate is effectively reduced, and the service life is longer.

The surface is painted with soft color, comfortable senses, hard texture, elegant grade, and wear-resistant. Crash resistance, suitable for long-term use under harsh, harsh conditions.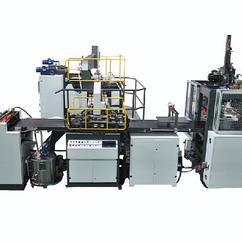 10,The servo motor drives the material delivery, film delivery, vertical sealing, horizontal sealing and output of the packaging machine, simplifies the traditional mechanical system, and removes the mechanical mechanisms such as the infinite gearbox, differential box, and tracking motor used by the traditional packaging machine, so that the operation of the packaging machine is more stable and reliable. Significant reduction of mechanical noise and machine failure rate.
11,The operation, maintenance and daily maintenance of the packaging machine are more convenient and simple, reducing the professional skills requirements of the operators. The user can set the packaging parameters of various products in the control panel. When used, only the corresponding data is drawn from the memory and executed. The packaging can be performed.
12, with automatic monitoring function, self-diagnosis of the reasons for the failure of the packaging machine operation and show solutions.
More information, all in liyou machinery official website, if in doubt, please call my company's service hotline. Dongguan liyou machinery equipment Co., Ltd. is a reputable, civilized, to the quality of the survival of the enterprise, specialized in the development and production of high-quality suction bubble shell packaging machine, stacking box, electro-optic flower equipment, battery broken ball mill and so on.